Schladming-Dachstein
While known for being avibrant winter ski area, summer transforms the vacation region, Schladming-Dachstein, into Austria's prime resort area for hiking and recreation.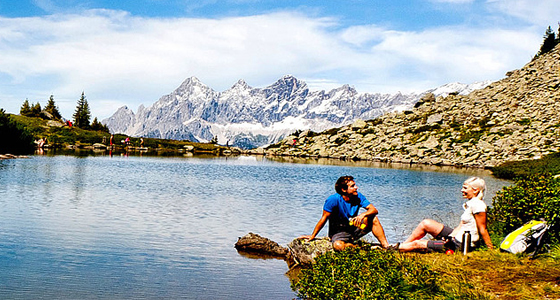 Whether afficionado or adventure-seeker, summer in the vacation region Schladming-Dachstein has something to offer for any nature-lover. Pristine landcapes, lush green alpine valleys and the magnificent limestone walls of the glacier-covered Dachstein Mountain compose the picturesque setting for a replenishing summer vacation. Active vacationers await 1000km of hiking trails, 930km of bicycle routes and mountain-biking paths, 45 trekking and nordic-walking trails, 4 golf courses 14 summit routes and 300 alpine lakes.

Visitors can take the Dachstein "Panorama Car" to a number of Dachstein Mountain's glacial attractions, including: the Sky Walk, the Ice Palace, a suspension bridge with the "Stairs to Oblivion", the glacier restaurant, summit trails and many more. While ascending the Dachstein alpine massif within the "Panorama Car" – a glass-encased cable-car – the mountain feels just within reach.
The 100 meter long Dachstein suspension-bridge will cause your adrenaline levels to skyrocket. The bridge is directly connected to the "Dachstein Ice Palace" – a tunnel leading through the very history of the glacier. Exceptionally intrepid visitors might traverse the "Stairs to Oblivion" – a 14-step stairway to a glass platform protruding out over the wall-base 400 meters below.
The Schladming-Dachstein regional mountain railways comfortably transport visitors to the outset of their summit adventure. Visitors may benefit from additional discounts provided by the Schladming-Dachstein "Summer-Card", which also includes discounts on the mountain railway system.